News
Upcoming Events
Join our private Facebook group for the latest news and announcements
Also In This Issue
Front Page
Recent Events
Invitations
Other News and Reminders
---
This Month's Life Skills and Writing Assignment
Foundational Program
Perseverance - Do your best and never give up
Leadership Program
Humility



Tiger definition: Understand that there is always more to learn
Junior & Adult definition: Be aware of your imperfections and your capacity for growth

Writing Assignment Topics:

Tigers & Juniors: Discuss your greatest weakness and how you can overcome it
Teens & Adults: Same as Juniors

Writing Assignment Options:
---
Curriculum for This Cycle
Our training includes fitness development (flexibility, upper body strength, lower body strength, core strength and cardiovascular fitness), boxing drills, forms, board breaking and (for students in Black Belt Club, Leadership or Legacy Program) sparring and weapons skills.
This is our forms curriculum for the current graduation cycle:
ATA Tigers
White-Yellow Belts: Songahm 1 Phase A opp (#10-14)
Camo-Red Belts: Songahm 1 (2nd half)
Juniors & Adults
White-Yellow Belts: Songahm 1 (2nd half)
Camo-Red Belts: Songahm 4 (2nd half)
Red/Black Belts: Songahm 5-In Wha 2 (1st half)
---
New, Renewing & Upgrading Members
---
Happy Birthday!
---
Our Facebook Newsfeed
---
Tax Day Sale: Save 15% on Gear on April 15
Do you need weapons or other gear? Has your child outgrown his or her uniform or sparring equipment? Have you lost a sparring glove? Take advantage of our tax day sale! Place your order on Monday (April 15) and save 15% on all equipment!
Starting after the April graduation, we'll be working on ssahng jeol bong (nunchucks) in our curriculum classes, so if you or your child do not have one then this is a great opportunity to buy one. Leadership Program members will need combat weapons (padded sticks) starting in May, so now is the chance to get one of those. And with summer around the corner, you can use this discount to get your school T-shirt.
Please place your order in person at the front desk or call us at (925) 957-9383. This discount is not available using the online equipment order form.
(This offer cannot be combined with other discounts.)
---
April 26-27: Graduation
Graduation is Friday, April 26 and Saturday, April 27.
If you are not yet ready to graduate, you will have class as usual Monday through Thursday of that week.
We do not have class on graduation days.
Pre-Test from Home!
You can pre-test in the comfort of your own home. Here's how it works:
Make a video of yourself doing your form
Post it in our private Facebook group (if you do not use Facebook, you can post it on YouTube and send a link to info@bay-ata.com)
We'll watch it, and we'll comment letting you know if you (a) have permission to graduate or (b) need to pre-test again
If need to pre-test again, you can submit another video or come to class on Monday, Tuesday or Wednesday of graduation week to do your pre-test in person
We encourage all students to do your pre-tests this way so that classes during graduation week can be devoted to training and preparing for graduation.
Once you have passed your pre-test, please click here to pay your graduation fees. (You will need to login in order to make your payment. If you are a parent, please use your child's login information instead of creating a new account.) There is a $15 late fee after Thursday.
Graduation Schedule
Monday-Thursday (April 22-25)
Classes as usual (review and pre-test)
Graduation fees due Thursday (see below)
Friday (April 26)
3:30 pm: Tigers Group 1 (White and Orange Belts)
4:30 pm: Tigers Group 2 (Yellow through Red Belts)
5:30 pm: Family Class Group 1 (White Belts)
6:30 pm: Family Class Group 2 (Orange and Recommended Yellow Belts)
7:30 pm: Family Class Group 3 (Decided Yellow and Camo Belts)
Saturday (April 27)
9:30 am: Family Class Group 4 (Green and Purple Belts)
10:30 am: Family Class Group 5 (Blue through Red Belts)
11:30 am: Black Belts
Graduation Fees:
White-Red Belts: $50
Leadership or Legacy Program Members: Free
You may also order a DVD containing the form form for your next rank. These DVDs normally cost $15 but are available for only $10 at the time you pay for your graduation.
$15 late fee will apply to payments received after Thursday (April 25)
Can't make it to graduation?
My expectation is that students will attend the regular scheduled graduation if at all possible. Being a part of that event allows you to demonstrate that you can perform under pressure, and it enables you to support your fellow students and benefit from their support and camaraderie.

If you absolutely cannot be here for the scheduled graduation, please call me at (925) 957-9383 right away. In limited circumstances where there is an unavoidable conflict, I will permit students to attend a make-up graduation at one of the following times:
Wednesday, April 17 at 3:00 pm
Wednesday, April 17 at 8:30 pm
Those are the only times set aside for makeup graduations. In the past we have received numerous requests for individual makeup times, which imposes a burden on our staff and intrudes on class time for the rest of our students. Therefore, if you are unable to attend the scheduled graduation and you fail to attend one of the makeup times, there will be a $20 fee if you want to schedule a separate make-up graduation.
Black belts are required to test at the scheduled time and are not permitted to schedule make-up graduations.
Respectfully,
Senior Master Schreiber
---
Please Vote for Us!
We are honored to have been named Bay Area Parent's Best Martial Arts for the last two years, and we want to keep the title.
Please vote! It's easy:
Under Sports & Fitness, click "Martial Arts Class"
Click "Master Schreiber's ATA Martial Arts" (first name on the list)
You will need to enter your email address and other info to ensure you don't vote multiple times, but you can de-select all of the checkboxes so you don't receive marketing emails. Thank you for your support!
---
Register Now for Summer Camp
Enrollment is now open for our martial arts summer camps for ages 5-12. With different themes each week, the camps will combine fun physical activities with instruction in safety skills and life skills like focus, self-control and confidence.
We are only offering three one-week camps this summer, and space is limited to 20 participants per week.
If you register by this April 30, you'll save 5%. We also offer multiple-session discounts and family discounts.
Visit www.bay-ata.com/summercamp to learn more and to reserve your spot.
---
Sign Up for Our Annual Photo Days
Ninja Star Photo is coming to our academy May 28-30 for our Annual School Photo Shoot!
Please be sure to sign up for a time slot. You will have the opportunity to buy photos if you choose, but even if you do not plan to purchase photos, please get your picture taken so you are included in our annual poster.
Just click here to sign up for your photo shoot.
---
June 23: Walk to End Pancreatic Cancer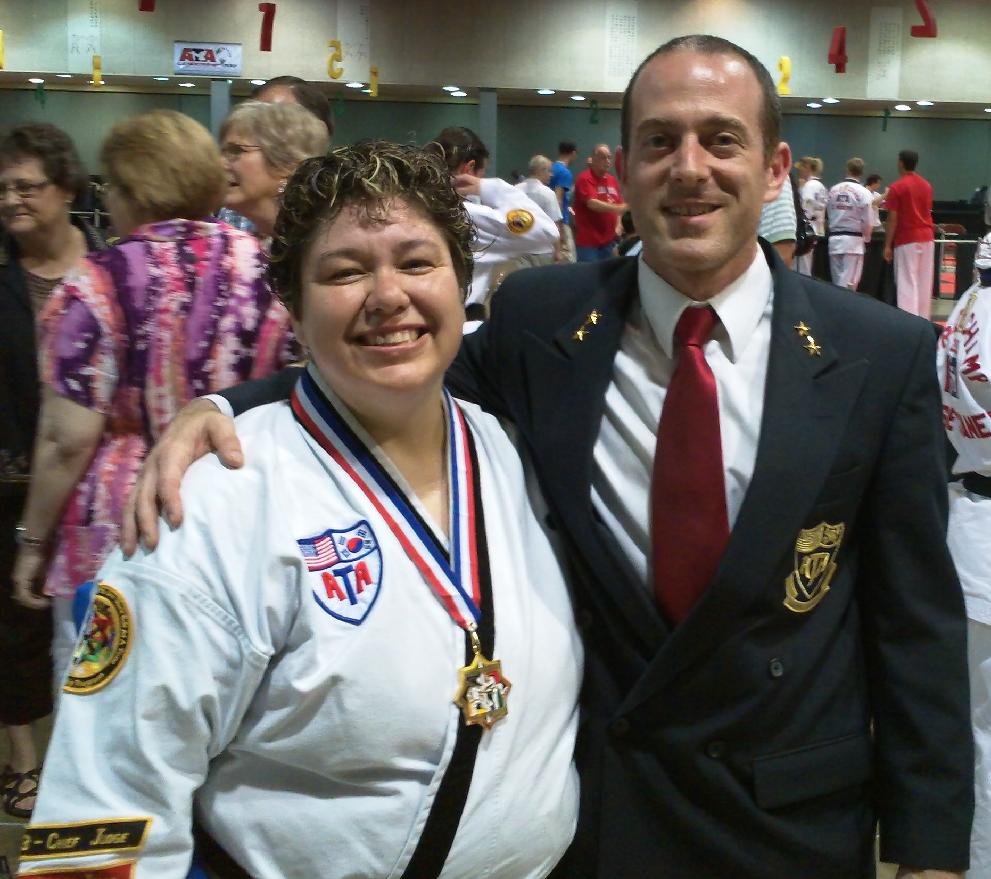 In 2017, we lost Lisa Tuzon to pancreatic cancer. Ms. Tuzon was my student, employee and friend for many years. She was a charismatic and caring instructor. She inspired her students and her fellow instructors with the passion and love that she brought to martial arts and to her daily life.
In Ms. Tuzon's memory, we will be participating in the PurpleStride Walk to End Pancreatic Cancer in San Francisco on June 23rd. Please join us!
Be sure to register as a member of our team by the end of the day Wednesday, June 19.
The event starts at 9 am on Sunday, June 23rd. We will meet at 8:30 am at Justin Herman Plaza (1 Market St) in San Francisco. Please wear a black ATA T-shirt and look for me. If you have trouble finding me, text (415) 269-5374.
Here are some useful links:
Thank you for your support!
Respectfully,
Sr. Master Schreiber
---
Black Belt Prep: Saturday Boards or Forms Bootcamp
Take advantage of our free Boards or Forms Bootcamp every Saturday. This class is an opportunity for students to improve board-breaking skills and brush up on forms in preparation for the day when they will have to perform all nine forms (from white through red belt) for their black belt test.
The class alternates each week between board breaking and forms training. During forms week, we focus on just 1-2 forms each session. Click here to see a schedule showing the topic each week for the current year.
---
Dylan's Birthday Party
For more photos, see our Facebook photo album.
---
Christien's Birthday Party
For more photos, see our Facebook photo album.
---
Emmanuel's Birthday Party
For more photos, see our Facebook photo album.
---
Bobby's Birthday Party
For more photos, see our Facebook photo album.
---
Gabriel's Birthday Party
For more photos, see our Facebook photo album.
---
Cub Scouts Blue & Gold Dinner
For more photos, see our Facebook photo album.
---
February Graduation
For more photos, see our Facebook photo album.
---
Valentine's Parents Night Out
For more photos, see our Facebook photo album.
---
Are You Ready to Lead?
Our Leadership Program builds skills to help students succeed in school, at work and in relationships. And on top of that, we teach advanced martial arts and self-defense skills!
Senior Master Schreiber has developed a life skills and leadership skills curriculum that draws on both his extensive martial arts experience and his elite education: a BA from Harvard, a JD (magna cum laude) from Harvard Law School, and a PhD from Oxford, where he was a Rhodes Scholar. Leadership Program is his way of sharing the benefits of this experience with his students.
Leadership Program teaches…
Public speaking
Goal-setting and habit formation
Confident self-presentation
Healthy eating
Strength and flexibility
Combat weapons sparring
Advanced weapons (sword, long staff, double stick and double nunchucks)
Advanced bullying prevention
Women's self-defense
Knife defense
Brazilian Jiu Jitsu (ground defense)
And more!
For more information, and to learn whether you or your child qualifies for Leadership Program, visit www.bay-ata.com/leadership
---
Have a Black Belt Birthday Party!
Celebrate your child's birthday with a fun and exciting activity in a positive and safe environment! Your child and his or her friends can enjoy the world's most popular martial art under the careful supervision of an ATA-qualified instructor.
The birthday child is a black belt for a day! Everyone participates in an energetic 45-minute class that teaches basic martial arts techniques and emphasizes courtesy, respect, self-control and discipline. The class is followed by a 45-minute party. We provide pizza and drinks. The birthday child opens gifts and everyone gets Taekwondo party favors.
We'll even send out the invitations for you!
For only $199 you receive the following:
Up to 10 guests (add $15 for each additional guest)
45-minute martial arts class
45-minute party after the class
Invitations sent to all guests
Martial arts party favors for all guests
Thank you cards sent to all guests
Call (925) 957-9383 or email info@bay-ata.com today to arrange your child's birthday party!
---
Safety Seminars for Your Youth Group
We are happy to offer a free Safety Seminar to your child's Boy Scout or Girl Scout troop, baseball team, or other youth group. Please contact Senior Master Schreiber for details.
For more photos of recent seminars, click here or here.
---
Bring an Instructor to Show and Tell
Did you know that our instructors can go to your school? We'll teach safety skills to your classmates, and you can help out as a junior leader! For example, Senior Master Schreiber visited Creative Play Center, where Siena Machado and Timmy Hiles helped him teach their classmates. (Click here for more photos).
If you would like one of our instructors to come to your school, just send an email to info@bay-ata.com. Provide the name of the student and parent, the name of the school, and the school contact information (contact person, phone number, address and email address). You can also bring this information to our front desk.
---
Invite a Friend to Try a Class!
Training with a friend will make your experience more enjoyable and keep you motivated. You're welcome to invite your friends to come to a free class with you any time.
Just complete this form to send your friend an invitation, and we will follow-up to make arrangements.
---
Join Our Facebook Group!
We have a private Facebook group for members and their families. This is where you will find announcements, details about upcoming events, and discussions relevant to your (or your child's) training.
Please click here to submit a request to join this group.
---
Package Discounts on Gear
We now offer several package discounts:
New Student Package
Camo Belt Package (sparring gear and bag)
Leadership Program Package
Legacy Program Package
These packages contain all of the equipment you need at each level. To order, login to the Member Resources section of our mobile app (or our website) and select Purchases from the grey menu. You can also go directly to the order form by clicking here.
---
Install Our Mobile App for Members!
Our mobile app for members is now available for both Apple and Android devices! Click here to install it:
Get easy access to our schedule, report star behavior for your child, schedule appointments or private lessons, see the latest news, view curriculum videos and much more! Watch the video below for a quick tour of the app.
---
A Fun Novel for Your Young Reader
Sr. Master Schreiber's wife Helena Echlin has written a comic supernatural horror romance for young adults (and the young at heart) about what happens when mean girls get superpowers and have to save the world. It's called Sparked, and it is now available in bookstores and on Amazon.
Watch the trailer:
---
We Welcome Your Feedback
We value your feedback. Our goal is to offer a rewarding experience to all of our students and their families. We know we're not perfect, but we are eager to improve. In order to do that, we need to know if you have any questions, concerns or suggestions.
You are always encouraged to talk to Senior Master Schreiber or any other staff member about any concerns. However, if you prefer confidentiality, you can complete our online feedback form. Please do not worry about offending us, though of course we prefer polite feedback to hostile rants. Your comments are absolutely anonymous (unless you choose to provide your name). Thank you for your help!
---
Private Lessons and Appointments
Did you know we offer private lessons? They are a great way to prepare for an upcoming graduation or tournament, or just to polish up your skills.
Want to schedule a conference or private lesson with Senior Master Schreiber or another member of our staff? Just stop by the front desk or give us a call: (925) 957-9383.
---
Help Us Help More Kids
If you are the parent of an ATA Martial Arts member, then you know firsthand how much Taekwondo benefits kids. You've seen your child learn life skills like confidence, courtesy and self-control thanks to the Karate for Kids program. I believe this program can change lives. And I'm asking for your help reaching the kids whose lives need changing most.
There are children in our community and throughout the United States who don't have the advantages and opportunities that bless so many us. These children, who can least afford to enroll in martial arts, are the kids who would benefit most from the life skills we teach.
Team PRIDE is dedicated to serving those kids. Our goal is to help low-income children develop the values and confidence needed to avoid criminal behavior and to succeed in school and beyond. With your help, we can enable at-risk children to participate in Karate for Kids programs so that they can develop PRIDE (perseverance, respect, integrity, discipline, excellence).
There are currently about 20 children enrolled at our dojahng thanks to the assistance of Team PRIDE. Unfortunately, Team PRIDE is running short of the money needed to support these children. If you can contribute any money to Team PRIDE, these kids and their families would be very grateful.
If your employer participates in a United Way Workplace Campaign, please consider designating Team PRIDE as your preferred charity.
Donating is easy! You can leave cash or a check (payable to Team PRIDE) in our donation jar at the front counter or use our online donation form.
Because Team PRIDE is a 501(c)(3) nonprofit organization, your donations are tax-deductible. For more information, please visit www.prideforkids.org. On behalf of the kids we serve, thank you.
- Senior Master Schreiber
---
Support Our Local Partners
---